Koihime Enbu RyoRaiRai is a 2.5D fighting game with approachable mechanics that hold plenty of underlying depth. Alongside your assortment of light, medium, and heavy attacks, blocking, and other standard fighting game mechanics, there is a tactics bar that fills up when dealing damage to be used towards special actions. The tactics bar can also be used on assists, a mechanic where you use a unique move (which can be selected before each match) that has a special effect, such as setting a trap to stun the opponent. Mixing and matching characters and assists is a great way to add variety, giving plenty of options to mess around with.
Smooth, responsive controls are essential to any fighter, and this is something that Koihime Enbu RyoRaiRai nails. Combos feel fluid, and the crunchy sound effects add satisfaction to each hit. The presentation is pleasing in general, with well drawn artwork and nicely animated characters. It has a killer soundtrack, too, which is always a treat.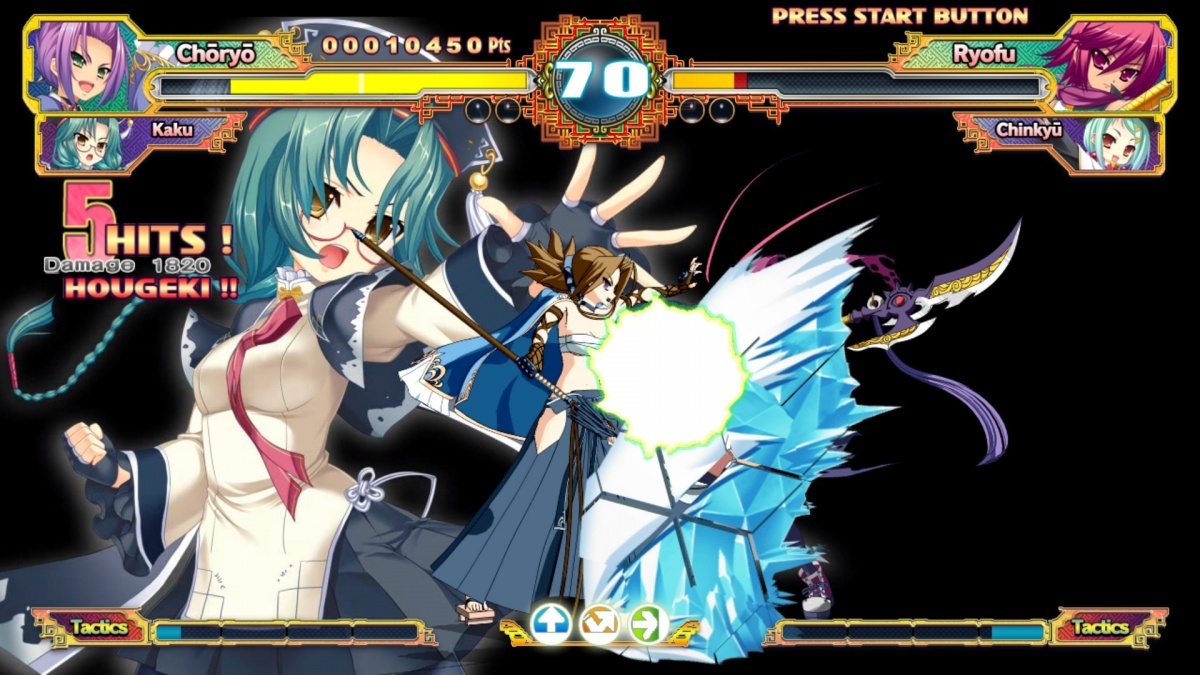 In terms of changes from the original Koihime Enbu, the most notable ones are the addition of a new character (leading to there now being 14 in total), as well as a new assist. Koihime Enbu RyoRaiRai is based off of the most up-to-date arcade version, so lots of rebalancing has been done. It's worth pointing out that one mode has been omitted from this version, and it's Scenario Mode.
In the original Koihime Enbu, Scenario Mode had you fighting several opponents, with dialogue between each fight. With this mode gone, the closest thing left is Arcade Mode, which has a similar format but with far less dialogue. Whether or not this removal is a disappointing detractor from the experience is debatable, although depending on your experience with the series (which is likely very little, due to how niche it is), chances are most probably would only be interested in this for the fighting and not character interactions anyway. Again, Arcade Mode is similar enough gameplay-wise that it's a minor loss.
Koihime Enbu RyoRaiRai has other modes besides that, such as online multiplayer, a training mode, and a few others. Overall, though, there's not a huge amount of content, but this is understandable considering it was originally an arcade title. It's only $20, which is a fair price considering the complexity and variety.