This developer gets it. The pee-wee protagonist walks towards the east, enters a mechanical beast the size of a very big bus (or a small ship), and from there on, it's just the hero(ine?), this strange vessel, and the adventure ahead of them, with not a single explanation thrown at your face, and, in all honesty, no need to, as this is a prime example of a videogame where the tutorial is neatly hidden behind a carefully woven veil, as, whether experienced or not, everyone will soon figure out how push the right buttons to get things moving... literally.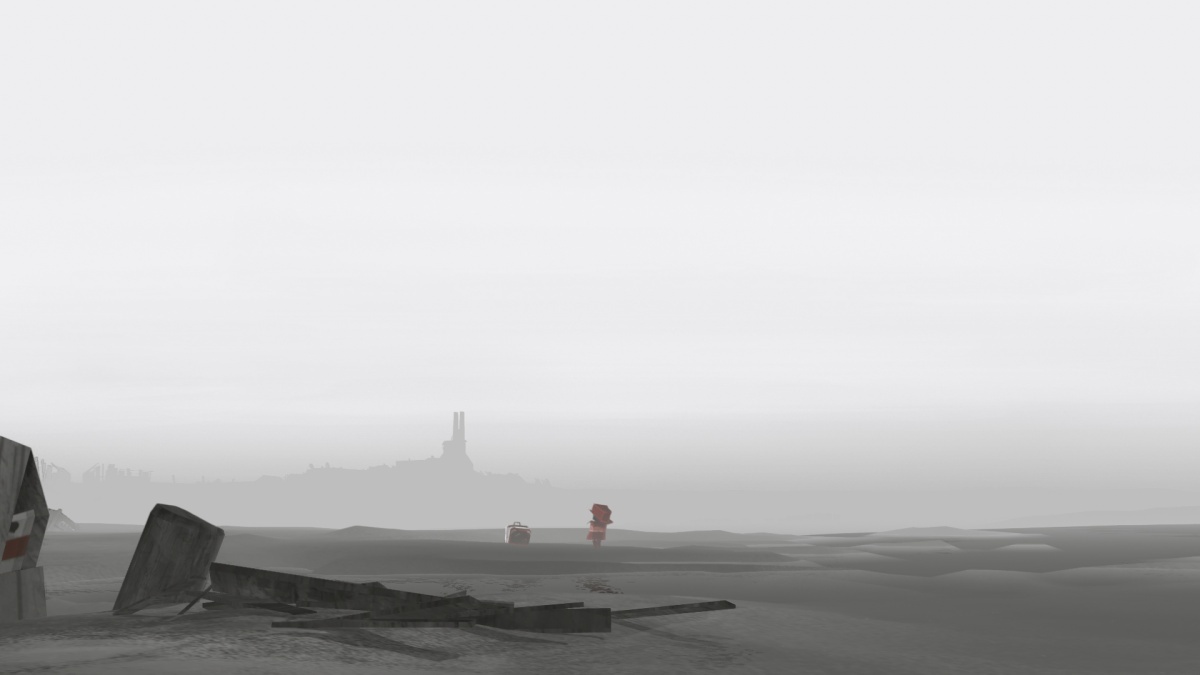 As you are on your own to control something that was build for a bigger crew, prepare for some heavy multitasking. The basic idea goes something like this: burn garbage, produce fuel, start the ignition, and frequently release some steam to decrease pressure, gaining a speed boost in the process. Simple? Yes, but things will get progressively more complicated, with sails that have to be "turned" on or off at different occasions, damages that have to be repaired, and fires that need to be extinguished - oh, and don't forget to brake when approaching a concrete wall.
Handling this bizarre steam(punk) locomotive, proves to be an enjoyable puzzle on its own, as one has to be careful when to do what, while also being mindful of what's up ahead, by occasionally zooming out of the vehicle. There are some tiny nitpicks that could be mentioned, with one example being how movement inside the locomotive can occasionally be slightly annoying and not as streamlined, especially when using the central lift to move from level to level, as it occasionally does whatever it wants, but, as a whole, there's not much to moan at.
Besides being on the wheel of this train-ship-thingy, the protagonist will occasionally reach a dead end, which will force you to go outside and do some minor (very minor) puzzle-solving to open the road ahead. Some of these "land" sections can overstay their welcome at times, and some puzzles tend to feel more like chores, but, as a whole, these contribute to the overall experience and, manage to offer a nice, and, occasionally, much needed break from all that driving, junk-burning, sail-setting, and so on, and forth.
In conclusion, FAR: Lone Sails is a simple odyssey where one gets to drive, and occasionally sail, a vehicle, right? Thankfully, it's more than that. Although definitely a fine puzzler/vehicle management sim, the main emphasis in here is immersion, and storytelling. Is there a story to tell, though? One hour into this journey, literally one third of the whole thing, and "nothing" will really happen. Well, just don't come in expecting visual novel-esque, 5000 word-long dialogue sequences, as this says what it has to say by showing it, and leaving the rest to the player's imagination.
So, this is one of these games, and, thankfully, it's one of 'these' that are good at what they do, and for multiple reasons. For starters, the world at hand looks stunningly beautiful despite the minimalistic design, or, maybe, exactly because of it. It's important to note that the ramshackle villages and dead factories, as well as the deserts, snowscapes, and semi-dried sea beds that the locomotive will run or trudge through, evoke feelings of loneliness rather than fear or survival anxiety. This is a post-apocalyptic array of places that look very, for a lack of a better world, Scandinavian.
Needless to say that this will be a relatively short trip. The majority of players will reach the finishing line in three to four hours (tops) in their first try, and about one hour and a half in their second one. Yes, this isn't something that's drenched in replay value. Then again, FAR: Lone Sails never opted to be something more than a short-but-sweet, and heavily engrossing experience - and that is its biggest strength, evident at how you will grow attached to your vessel, and actually feel bad whenever it gets heavily damaged, or when you walk away a few feet away from it.