For the first few levels, it was difficult to fully pin down what genre Flat Heroes fits in. There was too much action for it to be a straight puzzle game, and it did not present the sort of freedom or openness that traditional platformers normally provide, despite jumping serving as its main mechanic. Once a few levels were completed, the most appropriate genre for the game presented itself: a bullet-hell-puzzle game. If that sounds a bit odd, don't worry, it makes much more sense once you get your hands on it.
This presents the player with a series of levels, each of which is contained within a square of varying size, as well as a swappable colour palette which is minimalist, yet still bright and vibrant. Within these colourful squares are some platforms, and a smaller square which the player controls, and which can be assumed to be the titular flat hero. The final component within the squares are the obstacles, whose arsenal include lasers, bombs, homing missiles, and more, which all seek to take out our geometric friend. It is at this point where the bullet-hell nature of the game takes hold, and that aspect of only gets stronger as one progresses.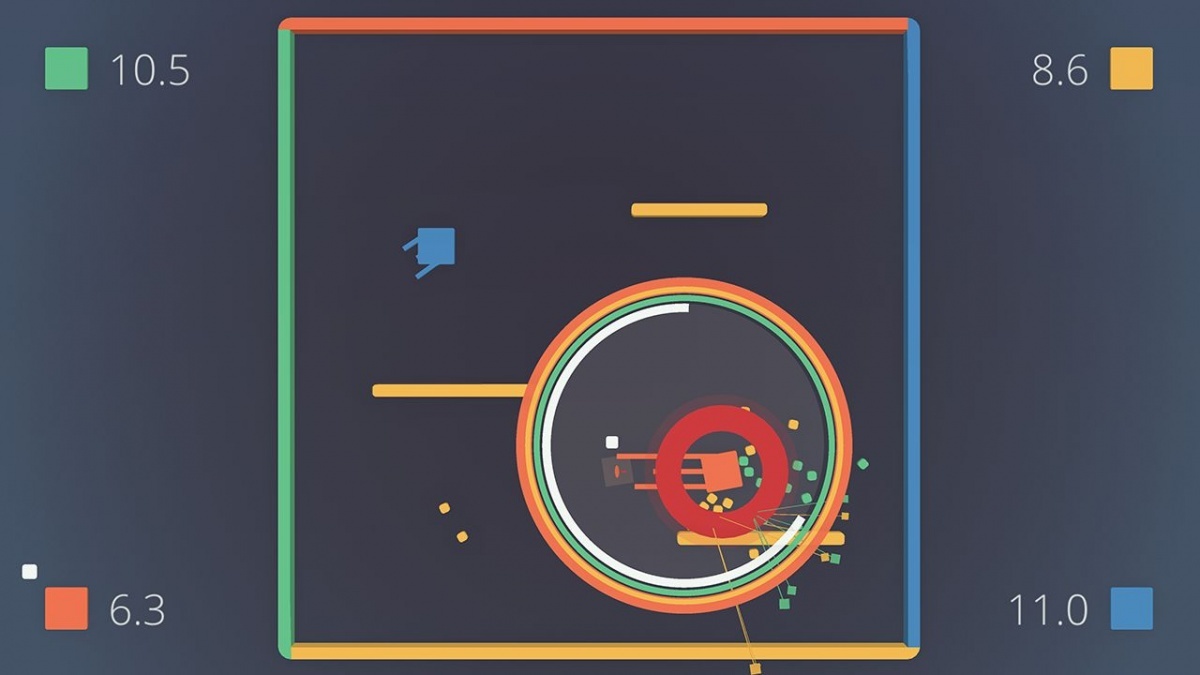 Each stage pits you with a single goal: survive. Dodging the myriad of attacks is the only way to pass each stage, and that challenge very quickly escalates as the tools of use against the player mount. Figuring out the puzzle of each stage is key, before kicking the mechanical skills into high gear to keep your little square alive. At times it can be difficult to tell if you made it passed the level due to dumb luck or pure instinct, but it is satisfying either way. Occasionally, you will run into an issue that comes as a consequence of being a square. There will be instances where a precise jump is foiled when landing on a corner which will push your square in direction and into danger. While not rampant, it is something that will be encountered enough to become frustrated when it happens.
The presentation of each stage is also important to note. This was designed with speed in mind - at least when it comes to stage completion. Most levels will last seemingly just a few seconds, and those brief windows are filled with action and intensity, while player is bouncing off walls and running for dear life. The bite-sized nature of each stage makes this ideal for on-the-go gaming sessions. Taking a few minutes to take a few cracks at a stage before class starts, or before the bus arrives, are where the structure of Flat Heroes thrives.
There is, unfortunately a slight weakness in this presentation. The compact nature of the game means that there is very little downtime either in between each stage, or in between attempts. Without this downtime, the intensity of the stages can begin to stack up. Failing on a difficult stage even just five or six times in a row can happen in a matter of seconds, and there is no time for any possible frustration to dissipate. Even successes can begin to mount, as the only time to alleviate the tension of the game is to either pause, head back to the menu, or to simply stop playing. Either way, the only quite time comes from not playing. Of course, this pedal-to-the-metal nature of the experience may not allow for extended play sessions for some people, as it is easy to get burnt out without any built in quiet time.