The first impression of Club Soccer Director PRO 2020 is that it feels like a title that has, to use the football parlance, missed a huge open goal. As Sports Interactive's Football Manager series becomes increasingly intricate and time consuming, here was the opportunity for a casual management rival to steal a march on the series. Stripping the formula back down to its roots and presenting a pick-up-and-play game for the football fan who has a little less time for an all-consuming journey. Unfortunately, that isn't the result here.
Club Soccer Director PRO 2020 is a relatively copy-and-pasted port from its free-to-play mobile cousin. Unlike in Football Manager games, the role played in this title is that of the now fashionable 'Sporting Director,' in charge of the whole vision of the club: from financial sponsorship in the stadium, to negotiating contracts, and of course the transfer of players. While winning football matches plays a role, the player's own reputation is ultimately the prime form of currency with which to progress onto better jobs.
As previously mentioned, there is something to be said for a more streamlined and fast-paced football simulation - it's a refrain that is often heard within the Football Manager community, who yearn for the days before having to deal with endless social interaction features, and repetitive pre and post-match press conferences. Club Soccer Director PRO 2020 certainly fulfils this to a certain extent. The 'Sporting Director' only has limited control over matches for example, with selections over the line-up of players and formations.
Equally, any form of player development or training is left in the background to the coaching staff, of which the only role the player has is regarding their hiring or firing. In that sense, responsibility is stripped away and things progress very quickly every turn. In the time spent setting up a detailed training plan for one player in a Football Manager, Club Soccer Director PRO 2020 will have half a month's worth of time spent.
Matches themselves are equally fast paced. Similar to the presentation style of Sports Interative, key match instances are shown as 'highlights' on a 3D match engine. It's actually a rather pleasant match-engine at that; a reminder of the old and much-loved top-down football title Sensible Soccer from the '90s. There are a limited number of animations, and whether it is very accurate to the algorithm that powers the result of matches is debatable, however it's certainly enjoyable to look at.
Sadly, it's not as nice to listen to, with very sparse crowd noises that morph into a garbled buzz rather rapidly, alongside a dull thud when the ball is kicked. As it is a football-management title there is not a lot to be expected on this front. Τhe UI, which is always important in this genre, is minimalist, clearly designed for a mobile device, but it does present everything in a very clear way. Surprisingly though, there are still a few too many menus that are required for certain tasks, and indeed some of them have loading times that there are simply no excuses for.
The animated and cartoon aesthetic in terms of player and staff faces is certainly imaginative, but clearly without licenses for any of the players or football clubs, and it all tends to become repetitive quite quickly. Unlike in Football Manager games, there's no way to mod any of this. Of course, generally whether this streamlined, hands-off approach is a good thing, or a bad thing, is entirely dependent on what someone is looking for in their football simulation experience. However, Club Soccer Director PRO 2020 makes several fatal mistakes that ultimately condemn this budget-title to being shown the red card.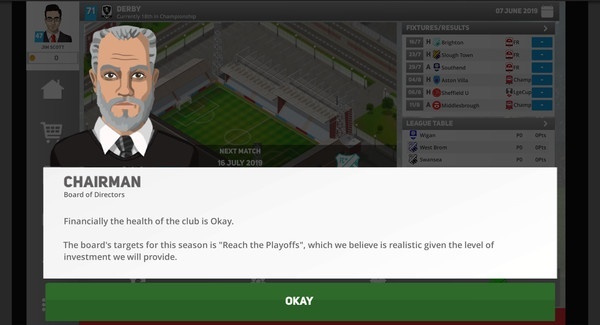 Regretfully, the level of micro-transactions within Club Soccer Director PRO 2020 is frankly egregious. Keep in mind that the mobile versions of the game are available for free, and the Steam version retails at £19.99. One could expect after paying this price, to be given access to the full product with no restrictions, while also getting some additional features. Those with such expectations will be disappointed to hear that, not only is every gameplay feature a direct port across, but that all micro-transactions are also carried over.
Upon choosing an initial team to manage, a selection is offered from a set number of clubs; ranging from those in the lowly end of the English football leagues, to some of the biggest clubs around. Upon clicking on one of said big clubs, a screen will pop up to advise that more reputation is needed before such a job can be taken. How to get said reputation? Buy it using coins with real world money. In fact, these coins make up the bulk of the majority of options available to play the game.
It would be one thing if the prices were modest, but charging in some cases £20+ for options like upgrading an in-game stadium, this money-grabbing methd borders on offensive. Buying more players, hiring more staff, earning coaching badges, getting a new job - all of these things are either done through the most tedious grind, or else by purchasing coins. There is simply no excuse in a title that claims to offer the 'PRO' version.