The idea of the game is clearly to make some money off the recent movie, now we didn't actually go and see the movie, but if the game really is based on it the film must be one of the best ways to send you to sleep ever conceived. You take the role of none other than Peter Pan as you go about being eternally youthful and the like. You start off by running about the Darling's home in London, where you are treated to some very wooden text dialogue that seems to suggest that you wouldn't be surprised if a random boy in green with a peculiar shadow started to run about your house opening doors and stealing your money.
Even more stupid is the painfully British way in which the dialogue is written, it made us laugh but we don't think it was meant to be funny. Peter guides all the little Darling's back to Never Land, where you have to Pan your way about the place being all swashbuckling and youthful. You get to dodge cannon balls, collect coins and even grapple with 'real' pirates, swanky...
We can't complain about the games looks, it is a very well presented title, the characters are well animated and the cutscene sequences look very good indeed. The sound is also quite good. Whilst it looks good and sounds all lovely, it plays like a dog and controls like a very stubborn and aggressive horse.
Peter can jump, run and when he takes some pixie dust (possibly some sort of drug) he can fly about the place, of course it isn't really like flying, well it is, but we never considered Peter Pan to be a bus. The mixture of fighting, adventuring and flying is a nice one, but when you are so hindered by the controls all the enjoyment is sucked out of it.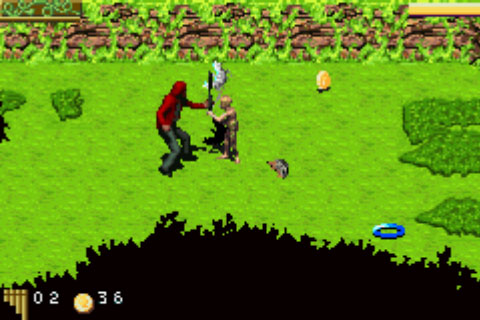 Some of the levels have no real structure, and at times we are generally didn't know that a level had ended, only to be informed that we had completed the game...somehow. The level design is also exceedingly bland and washed-out. Whilst the look of the levels changes every time, it is blatant that the developers have used the same template for each and every sodding one of them!
After each level you are given a password that you can use to continue the game from that position, meaning you can switch off at the end of each level, thank the lord. This game is just about bearable for one or two levels at a time, but any longer will just have you ripping your hair out...or perhaps the cartridge.