The most obvious start point is the control scheme. Controlling two characters with the two analogue sticks feels alien at first, particularly on the occasions where they cross over (i.e. the left analogue stick is controlling the character on the right hand side of the screen), but it is surprisingly quick to get used to. There's no tutorial needed, and players are thrown straight into the world with a puzzle. It's a great example of how to make a game that emphasises experimentation and playing, rather than telling players what to do.
Once the control scheme is mastered, one of the first things that becomes apparent is how realistic this is. There are no power ups, no special items, double jumps, or anything that couldn't feasibly be possible in real life. To be fair, many of the puzzles revolve around the "special abilities" of the brothers, but even these are grounded in reality (for example, only the older brother can swim, whilst the younger one can fit into smaller spaces). You quickly get the sense that the two brothers genuinely need each other to progress.
Brothers is very linear in nature, progressing forward from one place to another with each puzzle solved, but it does a good job of simulating actual world environments and even creating a sense of exploration. There are no invisible walls, so barriers to restrict movement are things like fences or cliffs. Sometimes a barrier can actually be scaled, leading to a new area. At its core, this is a puzzle game, but on the surface level it comes across as an adventure. This is also how the brothers themselves would view it, so the distinction is not arbitrary.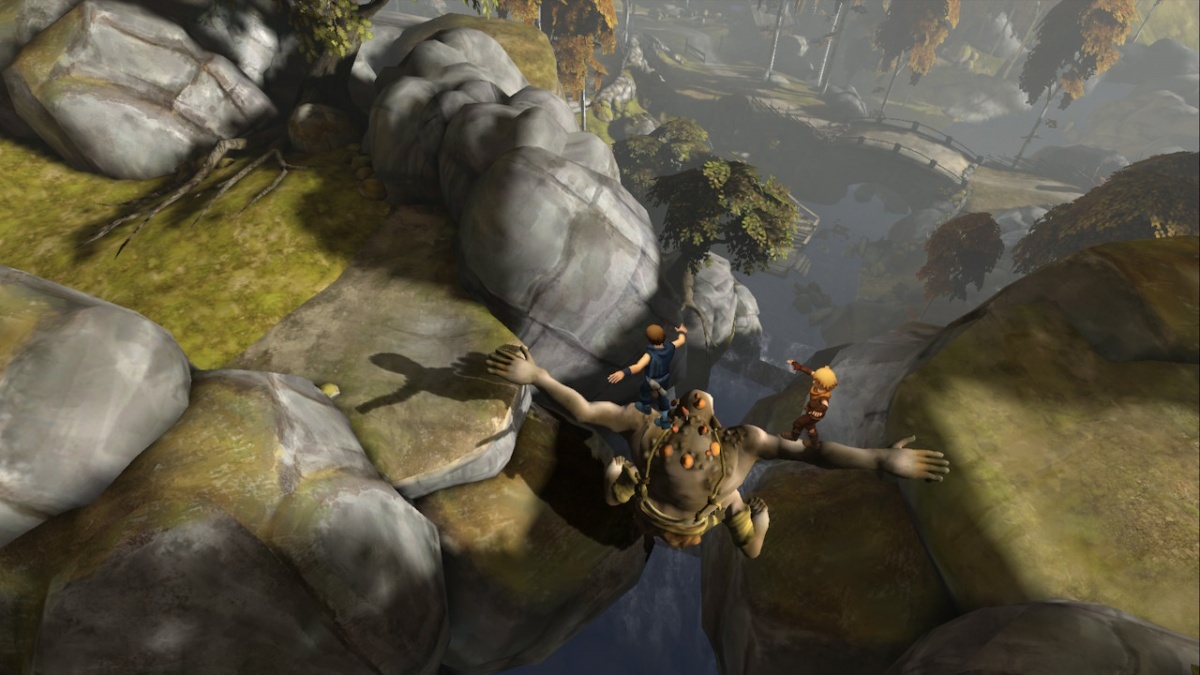 It's clear that the atmosphere of the game is central to its enjoyment. This is at the heart of the design choices, whether it's the relaxing music or the pacing. Even the graphics, which are reminiscent of the GameCube era, seem like a stylistic choice as opposed to a budget restriction. There's an inescapable sense that the world is real, almost something that can be touched and understood in a way that is so rare in video games. The importance of feeling also extends to the interactions. There's no voice acting (bar a few simple sounds), but desires and emotions are conveyed expertly by gestures and expressions. It's almost as if everyone in this world speaks a different language, but everything can be understood by both the brothers and the player.
A feature that that demonstrates the effort put into world building is the benches that are dotted around. These allow the characters to just sit down and enjoy the view. On the surface it's a questionable choice. Not many games actively encourage doing nothing, for obvious reasons. Despite this, it works brilliantly. Not only do the backgrounds look lovely, but they help to emphasise the atmosphere and beauty that is so central to the game. They also serve to reinforce the bond that the brothers have, and journey (both physically and emotionally) that they are undertaking. So many games feel like a rollercoaster, and put a lot of effort into getting the blood pumping. This one is more like a warm hot chocolate on a winter's day.
If there is a flaw, it's that this can come across as overly simple. The controls boil down to moving each character, and an action button that does everything else. This leads to puzzles that are not overly difficult or complicated. There's a surprising amount of variety in the activities, but they often follow a somewhat formulaic approach. Either one brother progresses and then completes an action to allow the other one to catch up, or they both complete an action together. There is a sense of repetition, particularly for longer play sessions. Difficulty is also lacking, and deaths are rare and not really punishing. This again feeds into the ethos of this title, as it means there is no panic or rush, but it demonstrates how the stylistic choices have consequences that may not suit every player.
One addition to the Switch version is the ability for two players to play simultaneously. This is a great concept, but it exacerbates the simplicity. Not only is the control scheme now very basic, but time is spent waiting for the other player to complete a puzzle. It might be a little gentle for some. Another extra feature is the game commentary. This is definitely recommended (although perhaps a little long for a single sitting), as it offers a fascinating insight into design choices and concepts for the title. This is particularly fascinating given that the design choices seem central to the gameplay itself (rather than an afterthought). Overall, Brothers: A Tale of Two Sons is a slow paced puzzler, with a wonderful atmosphere. Its simplistic nature and lack of action may not suit everyone, but it sets it apart at least as much as the unconventional control scheme.