The pedigree for this game is high, after all it is made by the designer of the X-COM series; a series which often appears on various 'best games ever made' lists even though it is over twenty years old. Many strategy aficionados familiar with the more modern XCOM series by Firaxis may only be aware of the older titles, having never played them due to their age, if nothing else. At the time, these were utterly amazing - the clever blend between an over-world strategy section, and its tie to a fairly advanced tactical section were one of the reasons this was so ahead of its time, and why it still stands to this day.
This brief history lesson is important because, Phoenix Point is going to be impossible to not compare to these other games, as it was literally made by the same guy, and is quite similar. With all this being said, Phoenix Point has players take the role of a leader of a nearly defunct organization in a post-apocalyptic world. This place has been devastated by a bio-virus that changed most humans into mutant monsters and covered the world in a deadly mist. The adventure starts with just a small section of the world explored, and players must head out, finding new sights, new humans and new monsters to fight along the way.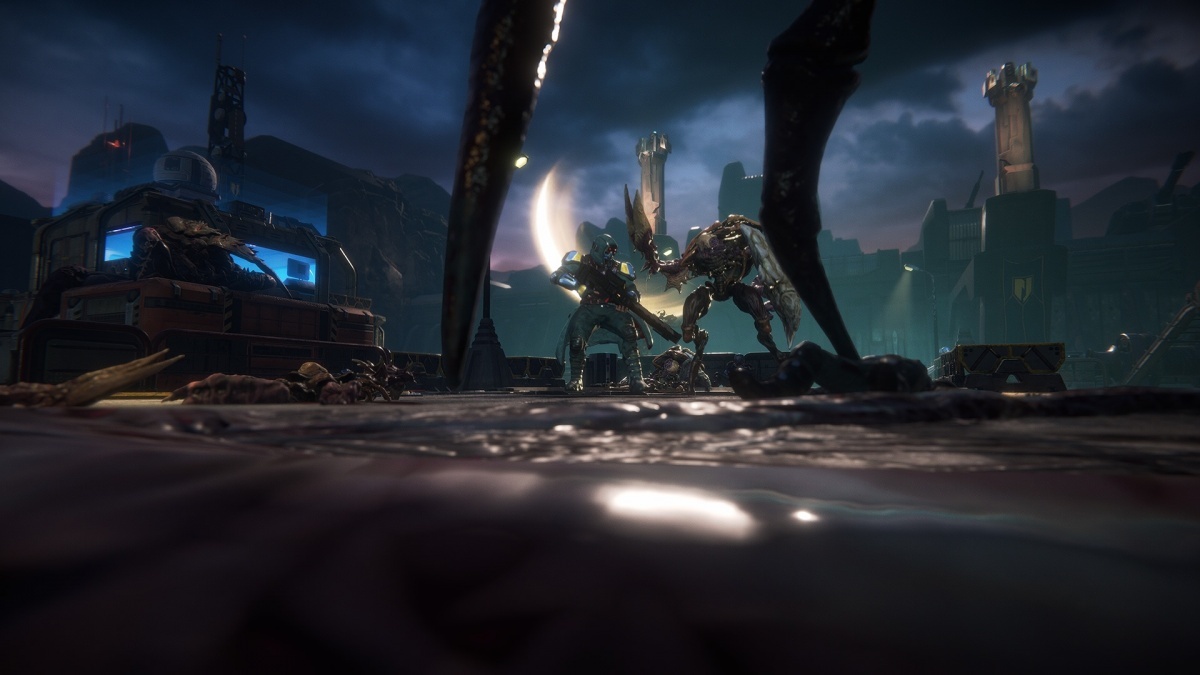 Like previous games of this type, this alternates between the strategic 'geoscape' and the tactical section. The geoscape section of managing their base, their troops and send out missions, all while keeping an eye of resources and equipment leads to the tactical section. Battles occur in an isometric tactical map where players fight in turn-based fashion with these mutant monsters. Both sections have some cool ideas, but ultimately fail as they feel like they simply were not fleshed out nearly as well as they should have been, as will be explored further below.
The geoscape is the strategic part where a player must manage building bases, interacting with other humans, and planning missions. It is here troops are given various weapons, research is conducted, and expansions over the map occur. The biggest aspect of this is the three human sects that are also still alive and kicking: a group that wishes to preserve what it means to be human, an ecological faction, and a religious one. Their lore is expanded on somewhat, but the actual interaction of these groups' leaves a lot to be desired. A huge portion of this part of the game is trying to keep them happy, all too often it feels like herding cats.
What was intended was a type of diplomacy of trying to manage their various desires and their disdain for other humans. It can be things like helping them on missions or saving their bases. The issues arise very rapidly in that these humans fight each other more than the monsters, and it devolves into a really weird thing where you are constantly presented with types of 'chose your own adventure' options about picking some choice which makes one happy and the others hate you. It's an interesting idea, but it mostly just falls flat as it feels more "game-y" than anything. Despite the world being nearly destroyed, you instead feel like you are playing some sort of matchmaker trying to keep these children happy.
The tactical section starts off pretty cool but loses its charm very quickly. Like almost all games of this type, the player has a small squad they move around the battle field, using action points to fire at the aliens. A few notable differences is the 'pod' mechanic from the recent XCOM games is gone - gratefully, as no longer do players have to worry about suddenly alerting the entire map on their own turn. The other biggest change is that aiming is done in an over-the-shoulder view very much like Valkyria Chronicles, with players being able to aim at body parts to potentially disable them.
This section is one of the larger failings at hand; it is utterly rife with bugs, glitches and outright problems. The game gives a line-of-sight indicator about whether you will be able to shoot the alien from the square about to be moved towards, but it is no joke to say upwards of 20% of the time this is wrong, getting there only to find you can no longer attack, which can have disastrous consequences in-battle. Likewise, there are tons of problems of random invisible walls, and other surfaces that cause a multitude of problems. The idea of targeting various parts is cool, but far too often it just devolves into aiming at whatever can be seen and hoping it hits. This is the worst for the heavy cannon class, where it is aimed from the waist, so a majority of obstacles like railings block the soldier from even shooting.
Phoenix Point just does not come together well at all. The geoscape section is mostly ruined by the unpolished dynamics of the three factions - certainly a cool idea that likely needed months more of fleshing out. The tactical section - a part that often can carry these games - also needed far more time to fix all the issues. Even if all of these things were taken care of, there is just a lack of heart. It is very hard to care about soldiers as cookie-cutter as these are; base management is forgettable; and, finally, there just is little to pull you in. Compared to older titles like X-COM: Apocalypse, which actually draws the player in, far too many things in here actively pull the player out of the experience.