It would be unfair to compare King of Fighters R-2 with any major fighter. This is, by all means, an extremely simplified, miniscule version of the legendary The King of Fighters '98 - one that's meant to be experienced on a tiny screen, with everything powered by substantially limited hardware. Don't let the "primeval" 16-bit visuals, chip-tune OST, and cute character design fool you, however. For what it is, this is actually a pretty solid fighter, and while it's in the audio-visuals where the whole simplification is in its most evident, it's hard to call this ugly.
The animation is pretty good (as expected from SNK, honestly), the backgrounds are pleasing to the eye, the sound effects and music will bring tears of nostalgia. More importantly, the chibi-fication of the, more than decently sized, roster, hasn't wiped characters off of their unique personalities and style. Yes, everyone is tiny, yet there's no chance of players mistaking Kyo Kusanagi for Terry Bogard, or Kasumi Todoh for Mai Shiranui... despite the latter not having a heavy, pixely bosom bouncing around.
The good news is that the quality is also pretty high in the place that matters the most: the gameplay. Yeah, this still has nothing to do with Miss Shiranui's... rib cage. There are only two buttons available, and yet this has managed to offer a combat system that doesn't ever feel poor. Even better, while the Joy-Con are generally not a fighting aficionado's first choice of a controller, it's not hard to pull of the various combos and special moves here.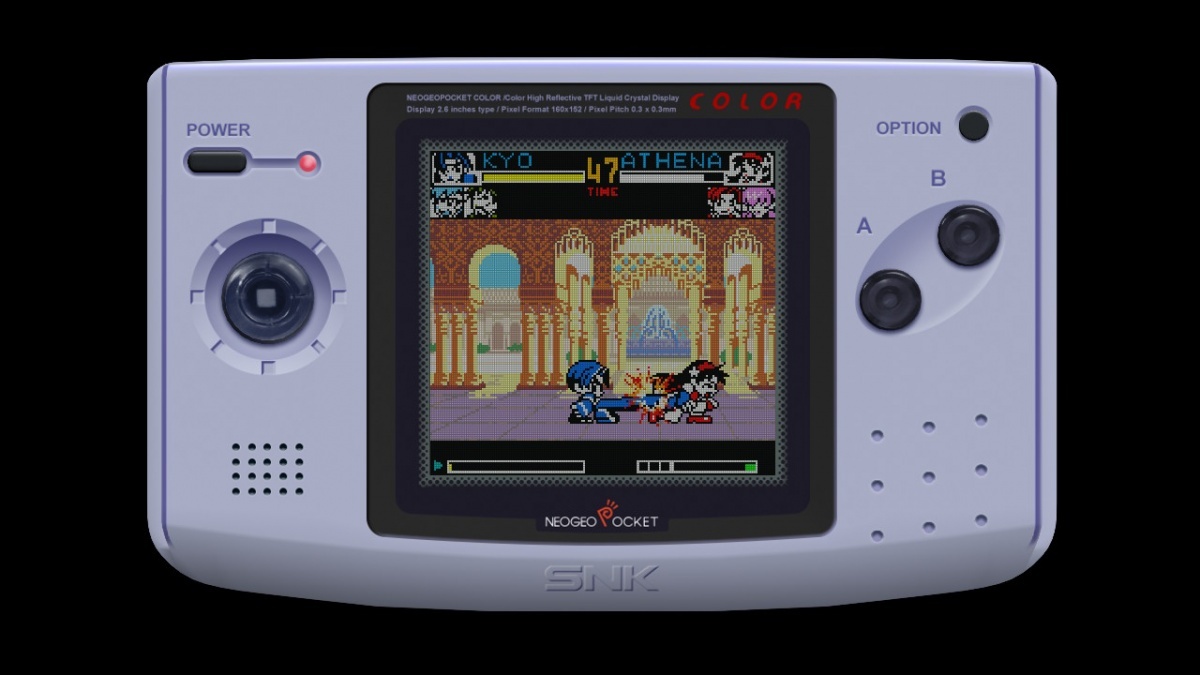 Of course, there's no point in beating around the bush. Anyone picking this up won't find a "meaty" package full of things to do. This is basically an emulation of an old fighter, which was released for a GBA-like system. The modes at hand include a typical Arcade, where you can pick a character or a team of three, a mode where you get to "build" your character to fight in a campaign, and, finally, local multiplayer, which can be enjoyed via an interesting, horizontal split screen system, or through the standard versus scheme.
At the end of the day, though, this is generally aimed at retro collectors, rather than those who want a good fighter to test their skills with. In that regard, this is hardly a lazy job. Apart from including the original manual in digital form, it has some nice features, ranging from different skins for the virtual handheld (plus the option to disable it altogether), a zoom-in, and a scan-line filter, as well as a rewind function that's perfect for lousy fighting fans like yours truly.
The biggest issue here is how it feels a bit "cheap" to pay half the price of, say, Resident Evil 2, just to emulate King of Fighters R-2. SNK made a mistake in dividing SNK Gals' Fighters, Samurai Shodown! 2, and this one between three separate games, as it would make much more sense if this was a bundle - even if it was a more expensive one. It's not like this hasn't been done before when it comes to retro collections, after all. Long story short: pick this up only if a very big fan, or a retro game maniac.