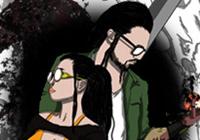 Aside from a handful or shining exceptions, one-man developed video games are rarely the most polished products in the industry. Most end up in that deep abyss where forgettable junk are thrown right after their creation, but sometimes people get something that, while far from well-made, has a strange kind of charm that manages to keep them interested despite an abundance of flaws. Red Colony, the rough-around-the-edges, Resident Evil-inspired, ecchi survival horror is such an example, with the gameplay being… passable, but the atmosphere being quite strong, as is its b-movie vibe. Those who enjoyed the latter might be tempted to check KnifeBoy, as it was created by the same man. Sadly, while charming in its own way too, it's something that's not as easy to recommend as Red Colony.
There have been weird metroidvanias before. KnifeBoy watches them from the peak of Mt. Weirdness, and laughs. It's hard to explain how crazy this world is. The closest description would be an avant-garde and post-apocalyptic landfill, where all kinds of items, structures, and creatures have been thrown together in a big, nonsensical pile. Oh, and the protagonist is a hipster-looking dude with an enormous blade protruding from his head; and there's something about the New World Order and the Anonymous; giant corpses and lots of gore; a tree-man holding a Frisbee; a hawk-looking train with a tongue made out of bodies and intestines; space, skeletons, a lampshade; and an extra-busty lady, whose brassiere can barely contain her assets.
The unique look and atmosphere of this twisted microcosm is what gives KnifeBoy its strong charm. Is that enough to justify everything else, though? Sadly, no. In terms of aesthetics, for instance, the craziness of it all is far from pleasing to the eye, with the level design basically being a collage of all sorts, of (mostly hand drawn) elements that don't always mix together in a way that can be described as appealing. Not to mention that it's sometimes hard to make out what is what: whether this is a platform or not, whether that is something that you can interact with, if it is dangerous or not, and so on and forth.
The main problem, though, is that this is just not that fun to play. It screams 'unpolished' wherever one looks towards, whether that's the level design, the controls, or the mechanics as a whole, but in the end, there have been unpolished games that still manage to be somewhat enjoyable, with the best example being the developer's second creation, Red Colony. For starters, this is somewhat hard to navigate. Not in that exciting way a typical metroidvania labyrinth tends to challenge you, though. It's more a matter of annoyance, especially in the beginning, where you'll spend quite some time wondering around, but never really getting a feeling of progression, or that you've learned more about the world.
Exploration is somewhat irritating, but the action is straight up boring. Besides the fact that it's super easy to beat everyone up (aside from boss fights - easily the best thing in here), the actual process of doing so is far from fun. Essentially, fighting revolves around spamming the attack button and pulling off a three-hit combo that usually stun-locks enemies, and always feels as if KnifeBoy hits air, as there's no "oomph" in his hits… and that sums up everything there is to say about this little project - because that's what it is, really. It's an inexperienced dev's first attempt at a full-fledged video game, and it shows.