At its core the structure and gameplay, for all intents and purposes, remain pretty much unchanged from its predecessors. It's going to contain one third of a side scrolling platformer, in and out of the tank, about one third top-down shooter, one sixth of boss battles, and then the final one sixth is just cool, full screen animations of the Sophia III tank driving through blast doors in an iconic fashion. Although it may be essentially the same formula on paper, in practice that doesn't make it any less compelling than the earlier counterparts. Remember what happened with New Coke? That was a PR disaster, and it was backpedalled fairly quickly upon error, and much like the original Coke, something does just work with the formula here.
Identify a location on the map, navigate through enemies and obstacles to get there, exit tank, enter doorway. The action then switches to a top-down perspective to manoeuvre, shoot 'em up style, and survive gauntlet-like rooms to get to an equally dangerous boss room. Fight boss, kill boss, pick up reward/character upgrade, repeat. It is a well-oiled machine by anyone's standard now three games in, but it's hard not to argue that the pacing of the loop is cooked to perfection at this point; and if it ain't broke… There are other ways, however, that Blastermaster Zero 3 does manage to break up the sameness from earlier titles, but at the very surface level this can be hard to discern at first blush.
Many assets and enemies are reused from the older games which can feel like déjà vu in action, and it is likely going to blur the memory of these games in hindsight, but in actuality, when comparing screenshots of this side-by-side with the others, one can notice that everything in Zero 3 just has a much higher level of polish, with better detail and harmony, particularly in the good pixel graphics department - and certainly, Inti Creates is no slouch when it comes to the good pixel graphics department, if the rest of its portfolio is anything to go by.
One could be remiss in thinking that Ratchet and Clank: Rift Apart was the only title to release this year to feature a prominent portal mechanic in it, and that it could only be achieved with the power of PS5 and its super fast m.2 hard drive. This assertion is patently wrong, though, and whomever thinks that way is wrong, because Blaster Master Zero 3 runs on much less powerful hardware, and it too has portals coming out of the wazoo. This feature is chiefly how Blaster Master Zero 3 distinguishes itself from Blaster Master Zero and Blaster Master Zero 2. Portals operate much in the classic dark world/light world way and would be familiar to anyone who has been playing video games for any substantial length of time.
Entering one of these portals will reconfigure a level in some manner, and create additional challenge as Jason's life gauge will deprecate when he's inside. It can get pretty hairy and disorienting inside these portals trying to figure out what has changed, and where to go within this time limit, and there is also the possibility of being attacked. This challenge is ramped by an occasionally harsh checkpoint system, which, although a minor gripe, can place progress a bit further back than one would hope. This can be especially true for silly deaths, like a misjudgement of Jason's laughably, but also classic, short falling distance.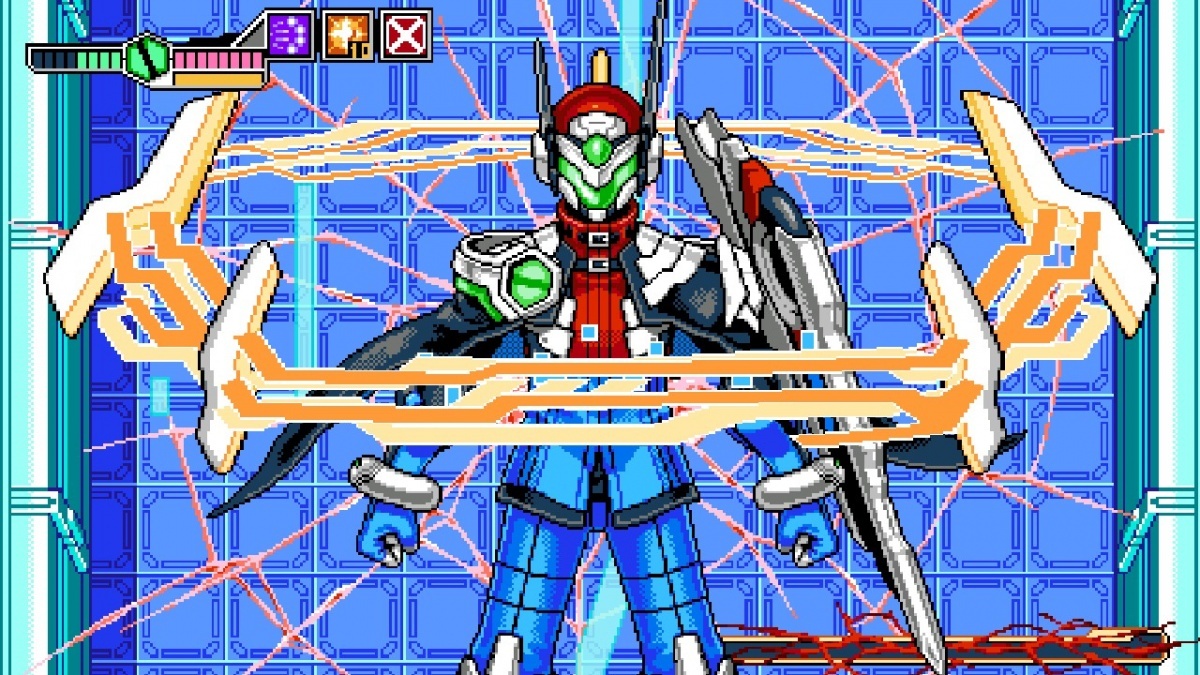 That being said, this is noticeably a hard deal, something for which it's prequels, in their time, were criticised for not being enough of; it's another characteristic that differentiates Zero 3 from the rest of the trilogy. It'll throw enemies out thick and fast, sometimes even to an absurd degree, and managing them will seem daunting. Thankfully, health and power pick-ups are fairly abundant and farmable, so there is always a chance of scraping through the difficult sections. Different enemies will be susceptible to different attacks as well, so learning these will allow an extra edge in battle.
Weapons need to be switched often and can now be assigned to two of the shoulder buttons, which mitigates having to dip into the menu a lot the time just to do this. Switching weapons and tactics can often be a key factor between success and failure. Sometimes Blaster Master Zero 3 does stick a bit too rigidly to its retro heritage, however, like as such with these added buttons the control scheme can at times feel at odds with the game design itself. It's awkward, and yet there is an element in this awkwardness that also kind of feels right. It feels cosy. Perhaps it's the nostalgia talking.