No matter what you'll do here, it will always end up looking like Menton, France. In other words, a beautiful, colourful array of buildings right next to the sea. You can go ultra-obsessive-compulsive and create a symmetrical world full of straight lines with an organized use of the colour palette, create a chaotic mega-town that follows no rhyme or reason… and everything in between. Is this a case of "the limit is your imagination?" Yes.
Well, sort of.
Mostly.
For about an hour - and that's probably stretching things.
Yours truly has been following Oskar Stålberg (on the internet, not as stalker), observing the gradual process of building this cool toy of his. As someone interested in the programming side of things it was an exciting ride. As a gamer, though, it's hard to recommend something like Townscaper, even to those looking to have some simple, casual, zen-style fun. The problem is none other than the fact that there isn't much to do here. This isn't one of those occasions where, with the use of a handful of tools, you can go wild for hours upon hours.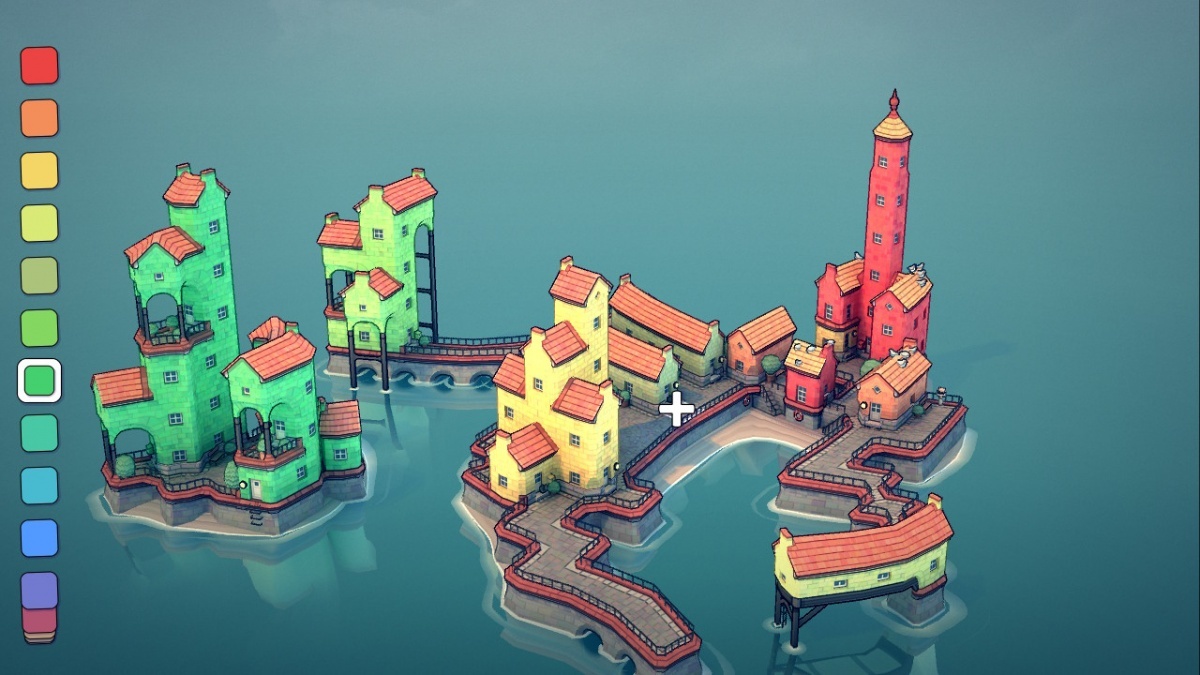 As mentioned before, the ropes are extremely easy to learn. You just click on the surface of the sea, and *puff* instant creation! You can then click on the building block that has appeared, to turn the little piece of road into a building. Want to make it higher? Keep on clicking on top of it. Want to add a balcony-like feature, or create a connection between buildings? Click on the side. Super easy (as it should) and a perfect fit for the Switch's touch screen. Oh, and by the way, the AI behind it all tends to put a few tiny details on your creation, whether that's a colony of gulls, a couple of bushes, or a few clotheslines.
…But as mentioned before, all these ain't enough. There is a colour palette available that enables creating contrast, or even neighbourhoods that stand out, and one can change the time of the day by repositioning the sun. Want to take a photo? There is a simple photo mode attached to it all. In the end, this feels like the alpha version of something much, much grander in scope - it just happens to be a very high-polished alpha version.