The premise of Necrobarista: Final Pour is a simple but engaging one, following the day to day of a coffee shop with a customer based of the recently departed - kind of a pit stop before finally moving onto the afterlife. The Living and dead are both catered for by its main server Maddy, and tales unfold around her as the shift progresses. Its worth stating straight off the bat that the interactions between Maddy and the customers are easily the most engaging. She is a well written, likeable character, with that streak of pessimism that stops her being overly nice or one dimensional. Speaking of one dimensional, Ashley, who doesn't even work at the coffee shop but wont leave, provides the comic(?) relief. Ashley grates from the very beginning, and seems to only insult people or throw things, put her in the pantheon of pointless characters along with Snarf.
What could be seen as a criticism for some however, often feels like the greatest strength of the title. A visual novel lives or dies by its writing, and every character interaction (besides Ashley who sucks) is, very typically, human. After the initial shock of finding out a coffee shop is essentially your last interaction with the living world, customers just seem to chat about very normal, everyday things. No excitement or world-shaking revelation, just titbits of their previous life, fond memories shared, and drinks consumed. Its these interactions that really form the basis of a real world existing and its those human stories that feel the most gripping.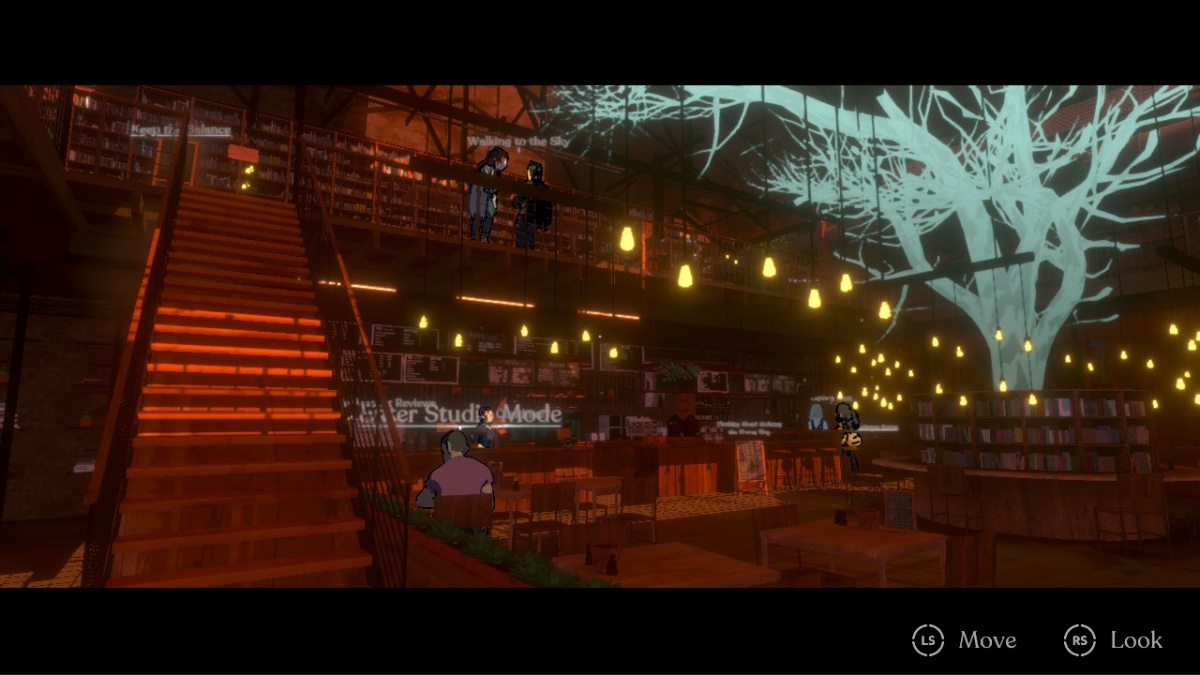 Adding to these human moments forms the gameplay element of the novel, as a passive observer the areas inside and around the coffee shop can be explored and certain objects can then be interacted with, triggering a memory of a past customer or experience. Newcomers to the genre will find that there is some pleasant kind of interactivity outside of reading. Its even a little comforting to think that maybe when people all shuffle off this mortal coil, a part of them still lingers around for any random person to experience.
If you like your anime, the visual style of Necrobarista: Final Pour is also going to appeal. If you asked any casual fan to draw a gothy, hip, young woman, they wouldn't be far off the design of Maddy. The coffee shop itself however is a real visual delight, falling somewhere between Barts Treehouse and a Waterstones. Although short, the sections given to explore are always a delight and far more time than was needed was spent heading up to the balcony to admire the ethereal tree around which the whole building is built.
The Switch version also comes with a wholly new feature in the form of its studio mode. Here assets from the game can be used to create new cutscenes and interactions. Characters, locations and even expressions can be altered, given a wealth of customisation to players with far more creativity in their brains than this reviewer.