Nostalgia hits hard for returning fans in the first notes of the upbeat opening song. Unfortunately, the original controls are kept, and it is not explained clearly that just because a character is selected to be the leader does not automatically make it the lead character - they need to be put in the first number of the party list.
Furthermore, their Tech (specific fight moves) needs to be changed from auto to either semi-auto or manual depending on how much of a helping hand is desired with landing blows accurately. This strange way of organising the active party is as confusing as it ever wasm and definitely could have been tweaked or given a tutorial.
It is always cool being able to pick who to control. Other party members can be used, as well, if they are set as semi-auto, but less confident players may prefer sticking with one character. This choice is more than cosmetic, as it can affect how NPCs react to the party.
Strategy can be altered at any time, so the non-dominant party members follow specific actions, like focusing on near or far enemies, always keeping a reserve of TP, which is the energy level for conducting battle skills.
Tales of Symphonia follows the familiar gameplay of going from one area to the next in the overworld, with monsters portrayed as amoeba-like blobs before changing into detailed characters once touched. Encounters are not random, but if no fight occurs for a short period of time, a monster will barrel into the lead character, forcing a battle.
The range of monsters suit whichever type of environment they are in; for example, the beach includes starfish creatures. This terrain difference is appreciated and barely scratches the surface of the many details that make a Tales game special.
There are parts of the story that may get missed in the first playthrough, with plentiful fun side-quests that are not always obvious where they are located and require backtracking. Those who only want one playthrough have the benefit of online guides to help them not miss anything. For everyone else, successfully stumbling across a side-quest and completing it creates a sense of achievement. The order in which some of the main quests can be played is also down to player choice, making subsequent playthroughs varied.
It is hard to pinpoint exactly what makes Tales of Symphonia so engaging. There is great humour and some seriousness in the numerous character skits that can be watched or ignored, although skipping them removes half the character development. The mystery surrounding Colette's transformation into an angel and the subsequent drama drives the story forward in unexpected directions.
Once understood, the battle system, which has two difficulty levels, can be tailored to each player depending on if they want to select their preferred character or switch users to see whose style suits them best. Only four characters can be in the party, which can prove tricky as the party members increase, making it impossible to have all the favourites active. There are parts of the story where members must split into teams, and making sure each one is balanced in terms of strength is fairly crucial for survival.
Initial battles can result in a game over, but after a specific early event when new characters join, it gets a lot easier. The starting range of fighters is pretty standard, with sword user Lloyd, the elf brother and sister magic users, and firm favourite Colette who learns both healing and combative skills as she turns into an angel. Hearing her sweet voice call out her moves brings back fond memories, with the option to pick the English or Japanese voiceover.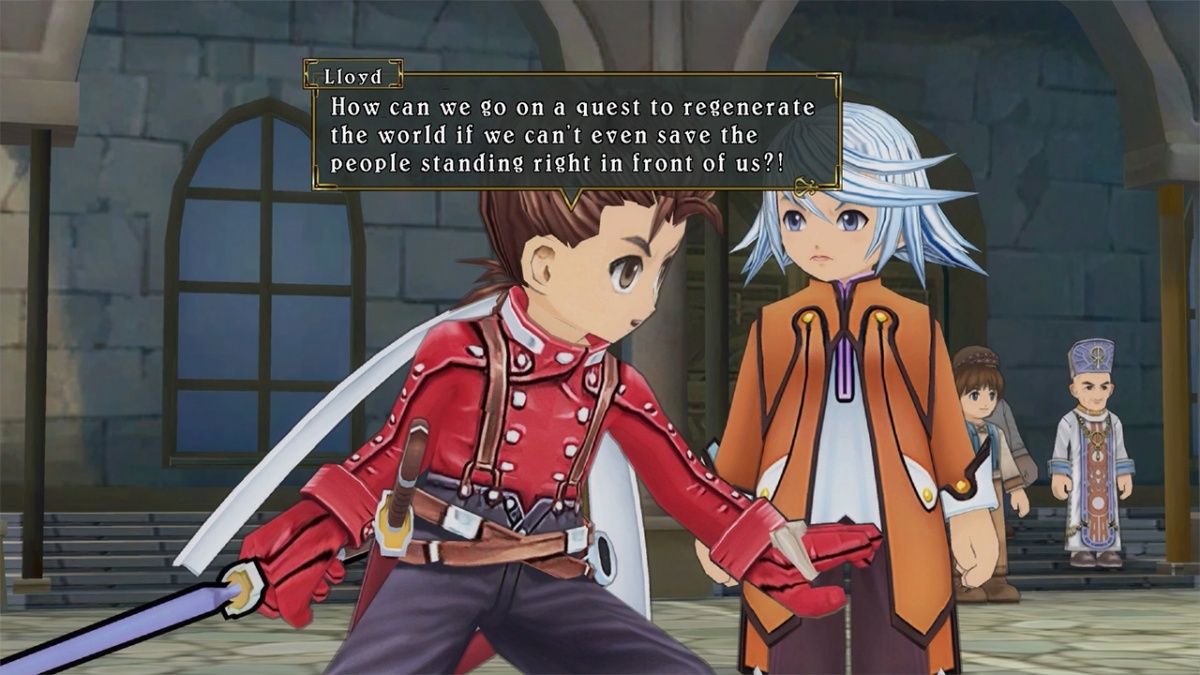 As well as fighting, there are many puzzles to solve whose difficulty varies widely - and not always evenly. There is almost always a station where a ring's power can be changed, and this creates different abilities needed for specific dungeons.
It is possible to take the wrong path and get caught in a trap, but it is relatively easy to backtrack to the starting point and retry. Enjoyment of these areas will depend on individual skill level; it can be frustrating to spend many minutes attempting to make progress in an area only to land back at the start, but finally making it to the end is rewarding.
There are recipes to collect that, when used at the end of battle, recover health and other stats, and dogs in most locations that need petting. NPCs have problems to be addressed for seemingly useless rewards, but end up being a valuable item later on.