Virtual Toys has already had great success with its first DSiWare release, Yum Yum Cooking Jam, whilst also recently releasing the only tennis game for the Nintendo DSi download service, VT Tennis. However, its second release, Spaceball: Revolution is the focus here, trying to prove itself amongst an already crowded puzzle genre.
There are cases where unfortunately there is a great game hidden away under an absolutely awful soundtrack and shoddy visuals. However, Spaceball: Revolution most certainly does not fall into that trap, as Virtual Toys has come out swinging once more, after its impressive debut on DSiWare with Yum Yum Cooking Jam. A futuristic funky tune complements the space setting, looping in the background whilst players attempt to crack the puzzles in front of them. The main playing field takes place within a 3D box where a 4x4 'Noughts and Crosses' style layout can be found at the base.
Various shapes will appear at the bottom of the screen, and the aim is to launch energy balls at the appropriate squares to change their colour to match the pattern. Hitting an incorrect square does not result in a penalty, but does mean you have to hit it once more to change its colour back, thus wasting precious seconds. Obviously the game is not as simple as this, with Virtual Toys throwing in various obstacles in later levels (moving/rotating blocks, stationary objects, and so on).
When faced with such obstructions, the way to get round them is by picking the right vertical panel to bounce the energy balls off in order to get them to connect with the correct panel on the lower section. Should you not manage to complete the required shape in sufficient time, the action will zoom out slightly, making it trickier to judge each ball launch using the stylus. To help break up the fifteen levels of increasingly intense action, some bonus stages have been included, with players throwing as many energy orbs into the screen as possible in an effort to hit all the flying saucers that zoom around. For 500 Nintendo Points, Spaceball: Revolution is an extremely engaging experience that will test your reactions and work your mind.
Gameplay
Great use of the stylus for accurate positioning of energy balls, clever puzzles and an easy pick-up-and-play approach that will appeal to a wide demographic.
Graphics
Futuristic locations, intuitive setup and smooth action all the way.
Sound
Funky music that is perfectly fitting for the outer-space setting, although the soundtrack is limited.
Value
The fifteen main stages on offer will keep gamers glued to their DSiWare screens for many hours.
Cubed3 Rating
8/10

About this score
Spaceball: Revolution is yet another hit from the team at Virtual Toys on Nintendo's DSiWare service, mixing together the need for quick reactions with a modicum of brain power to give gamers a thoroughly enjoyable puzzle outing for the low price of 500 Points.
Read and post comments

Adam is Cubed3's Operations Director. A Voice Actor on the side, he adores all things Nintendo, beavering away on news, features, and developer interviews.
View Adam's Content
View Adam's Reviews

@AdamC3
Google+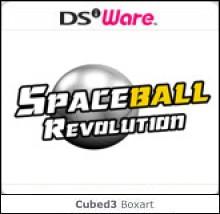 Developer
Virtual Toys
Publisher
C3 Score

8/10
Reader Score

0 (0 Votes)
Out now

Out now

None

None