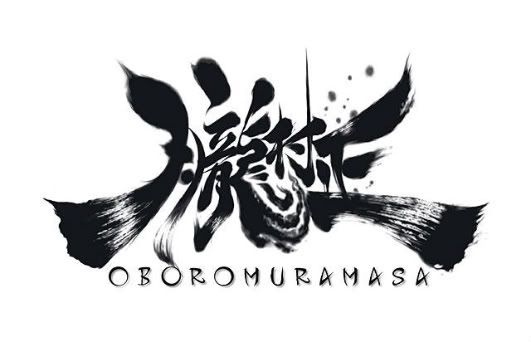 Yet another great reason to own a Wii. Love the homage to Hokusai.
Trailer

27CDB6E-AE6D-11cf-96B8-444553540000\" codebase=\"http://download.macromedia.com/pub/shockwave/cabs/flash/swflash.cab#version=6,0,40,0\" >
Character Profiles
Kisuke: He has lost his memory, an is being chased by his fellow ninja. Apparently he is a traitor, but he can\'t remember what he did that made them so angry. He feels a strong urge to collect Demon Blades, and throws himself into the midst of this Free-For-All war between those who seek these swords.
Momohime: She is a beautiful princess, but one day she was posessed by a spirit and suddenly ran away from her castle. Her whereabouts are unknown.
Izuna Jinkurou: He is a master of Oboro-Ryuu Kenpou (Dragon-Style Sword Technique), and can wield Demon Blades at will. He tries to possess a certain person using his TamashiiUtsushi (Soul Transfer) Technique, but Momohime gets in the way and he accidentally possesses her.
Kongiku: A BakeGitsune (Demon Fox) who is in love with Jinkurou. Even after he possess Momohime, her love for him does not change.
Yagyuu Yukinojyou: The third oldest son of the Yagyuu Family. He uses Yagyuu-Shin-In-Ryuu MenkyoMinden. He has another side of him that employs ninjas to run some shady businesses.
Sayo: A girl who can use Jintsuuriki (Divine Powers) expertly. She can fly, and call crows to her aid by blowing her conch. She also fights by using a variety of weapons, such as fireworks and seals.

Artwork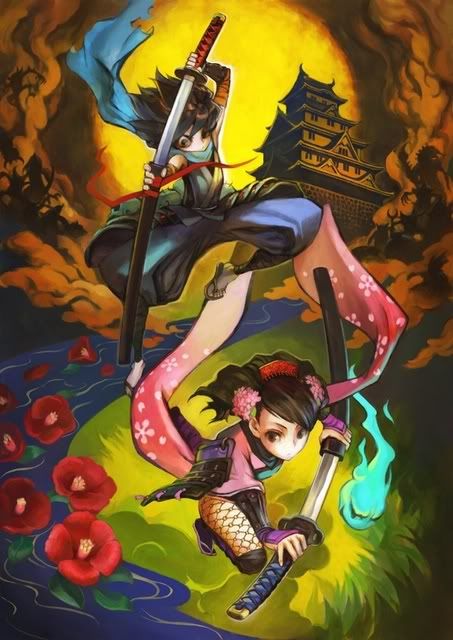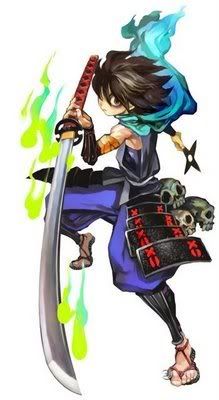 I cannot believe we have to wait till November for this