Tom Barry is an editor and reviewer for Cubed3. He's a life-long gamer and musician, passionate about writing and recording music, creative writing, and all forms interactive media. Since he's an avid sim-racer enthusiast, if he's not editing or writing features, he's usually found behind the wheel, on track - usually creating unnecessary commotion. 
Together with team-mate, SJ, he co-founded Cubed3's very own eSports sim-racing team, RufDog Racing. They compete regularly in the UK&I Monday Night Skippys League, which can be seen live on RacespotTV, every week from 9pm.
The long-standing UK&I Skip League is one of the best places to get a British sim-racing fix, featuring grids of over 50 cars, with a large pool of extremely quick and talented drivers, at the top-end, who put on a real championship show. Where ever you look on track, though, there's clean and competitive close-racing. The series runs in association with the UK charity, CALM. 
Tune into the broadcast and see if you can spot the Cubed3 logo, displayed prominently on all of RufDog Racing's vehicle liveries! RufDog Racing certainly don't pretend to be alien fast, but do enjoy a good mid-pack battle! They will also be doing (likely lower-split) six and four-hour endurance races, later this year, in the Mazda MX5, on iRacing.           
Currently, however, DiRT Rally 2.0 is the big sim-racing obsession. It hits shelves, worldwide, on February 26th, and there's even more Cubed3 coverage on the PC version, to follow. Follow RufDogReviews, for further updates on this hugely exciting Codemasters sequel and more!  
Other upcoming content includes our Assetto Corsa Competizione review, a preview of Kart Kraft, TechUp! features covering the Fanatec Clubsport V2.5 wheel base, the Fanatec Porsche RSR 918 Wheel and the Fanatec Clubsport V3 Pedals. We'll also be running a 'Logitech G29 vs Fanatec V2.5 ' side by side comparison in the coming months, examining the worth of moving from a budget to middle tier upgrade, in 2019, in the context of emerging Direct Drive hardware. 
Tom produces sim-racing content, including tips and highlight videos, not to mention reviews of sim-racing games and gear. To contact him about any of these things, get in touch through the site or via social media.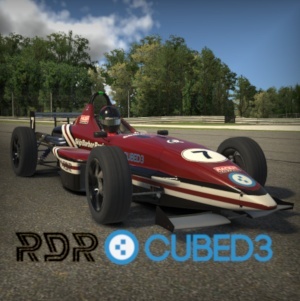 All Racing Reviews:
All Reviews