At first glance, Steel & Steam: Episode 1 could be mistaken for an RPG from the 1990s. It has a classical graphic style and very typical enemies from popular old school RPGs, with a range from critters to bandits. It really does a wonderful job of capturing the essence of the classics.
The fighting system features status debuffs and archetypes in a simple and easily to oversee turn-based system, making the game easy to mistake for one of the earlier titles in the Final Fantasy franchise. It is simple, neat and does its work perfectly. The difficulty of the combat is also true to the old school feel, with even mobs offering a fair challenge.
Everything is not sunshine and flowerbeds, however. While the overworld has a great retro feel to it, the cities are too large. How is that a problem? Well, the issue is in navigation and memorisation of important NPCs. This issue becomes very obvious once entering the big main city. It is highly problematic due to the fact that there are around 100 houses in the town, most of which are owned by Kickstarter backers. Nothing wrong with that, as such, since it is a very charming feature, but the issue is that none of them offer any content at all and are merely empty, and since there is no way to differentiate them from the ordinary houses, it becomes obvious where the problem lies.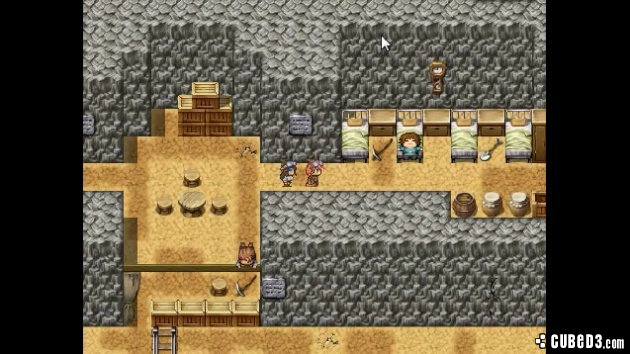 This creates a very large map where finding the people needed is impossible. To take one example, it is time to turn in the quest to an NPC living in a house. It was maybe two hours ago that the quest was taken, and in that time, there have been searches for other quests - with maybe five or six other quests on the list. Remembering where the NPC lives or even who the correct person is proves to be nigh on impossible. This means that too much time is spent looking for NPCs post-quest. This creates a lot of empty content within the game, which ruins the fluency that is so important in a good RPG. This issue could easily have been solved as well simply by adding quest marks on the town maps, like in most modern RPGs, or even offering clearer descriptions about where the NPCs reside.
One of Steel & Steam: Episode 1's stronger suits is its story and world. While cities are big and empty, as mentioned above, the world itself has a lot of nice lore and great stories to tell that can truly rival tales of the games it takes inspiration from. Steel & Steam has a great mix of characters with great personalities and no character feels empty, making exploring the big world presented a pleasant experience. There is, however, too little main story, even considering this is one part of an episodic series, and, on the other hand, there are too many side-stories. More focus on main story would have been great as Steel & Steam: Episode 1 ends just when it starts to unfold, which makes it feel incomplete.
Overall, what is delivered is a good old school RPG that is strongly in touch with its roots, but one that makes some rookie mistakes, such as having a world too large for its purposes. While it is charming with all the characters and Kickstarter houses, it is also somewhat annoying when quests are over and important NPCs are too hard to find.