Steamworld Dig 2 has an addictive gameplay loop of "dig, collect resources, return to town, and then upgrade for the next dig." Dorothy has a lantern that allows her to see down in the caves, and over time the light will go out. Returning to town automatically refills that lantern for the next trip down, while Dorothy can also use this time to utilise the resources that she has collected to turn them into money. Then new upgrades can be purchased, whether to improve the damage caused by her pick, or to extend the light duration on her lantern, or even to increase the size of her inventory, so that she can carry more resources per trip.
This slow burn allows for Dorothy to not only venture deeper into the caves and discover new areas, but also get considerably stronger with each trip back to the caves due to the upgrades. The adventure never feels like a grind, as the enemies in the initial stages are not too difficult to handle, and if Dorothy is maxing out her inventory before returning to town, she should be getting upgrades at a good enough pace that she will be able to handle the tougher enemies as they appear.
Sure, the only setback with the ease of the upgrades is that it may make the experience all too easy. Although calling it easy would be the wrong way to go about it; rather, the adventure is a leisurely one that allows for comfortable gaming, without having to rip out hair due to the stresses of high difficulties. Enemies are manageable, while the platforming elements do provide some tough moments that require special upgrades and new abilities to be able to overcome them.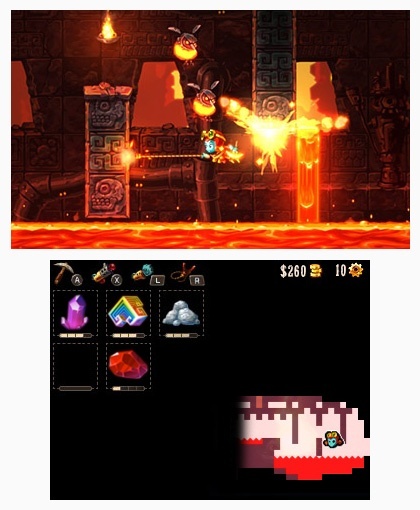 However addictive the gameplay loop is, believe it or not, there is more to this simple story than meets the eye. The central hub-town features a host of characters, each with their own quirky personalities. Making these characters even better is that they each have a role to play in the town, as one is responsible for turning resources into money, while the other runs the upgrade table. Another character awards blueprints when a specific number of collectibles have been found and returned. Plus, they also feature in the story, and they give Dorothy smaller but attainable objectives to give her a specific goal, rather than the generic digging in such an open-world environment.
The main story itself does not take long to complete; however, it does not take Dorothy everywhere on the map. Upon completing the adventure, there are still heaps of unexplored areas and collectibles to discover, which will surely whet the appetite for those looking for a deep game to dig their teeth into. The only real downside to purchasing new upgrades and abilities after finishing the main game is that there is a lack of bosses or enemies to really test these abilities out on, apart from the generic easy creatures that keep respawning in previously explored areas.
Also found in these caves, and usually awarded when discovering new hidden secrets, are special cogs. These are used to equip new abilities, but they can be unequipped and reapplied elsewhere as the journey continues. Some abilities only need one cog equipped, while the higher-end abilities require five cogs to be equipped by Dorothy, and the only limit to how many abilities can be equipped solely relies on how many cogs Dorothy has actually found. Therefore, while Dorothy can purchase upgrades by spending her in-game money, she still needs cogs to then equip these abilities, especially as more upgrades are purchased.