The premise of Road to Guangdong? A lady and her ageing aunt go on a road trip across southern '90s China in a dying automobile, to reunite with their relatives in an attempt to save the family restaurant. The core game involves tediously driving in a straight line, while an inanimate corpse of an old woman nags if anyone changes the radio station. Sometimes, stops can be made to acquire junk at scrapyards to sell to mechanics, so the jalopy can get a tune-up. The driving is bookended with long visual novel sequences of exhausting dialogue choices to get an estranged family member to reconnect.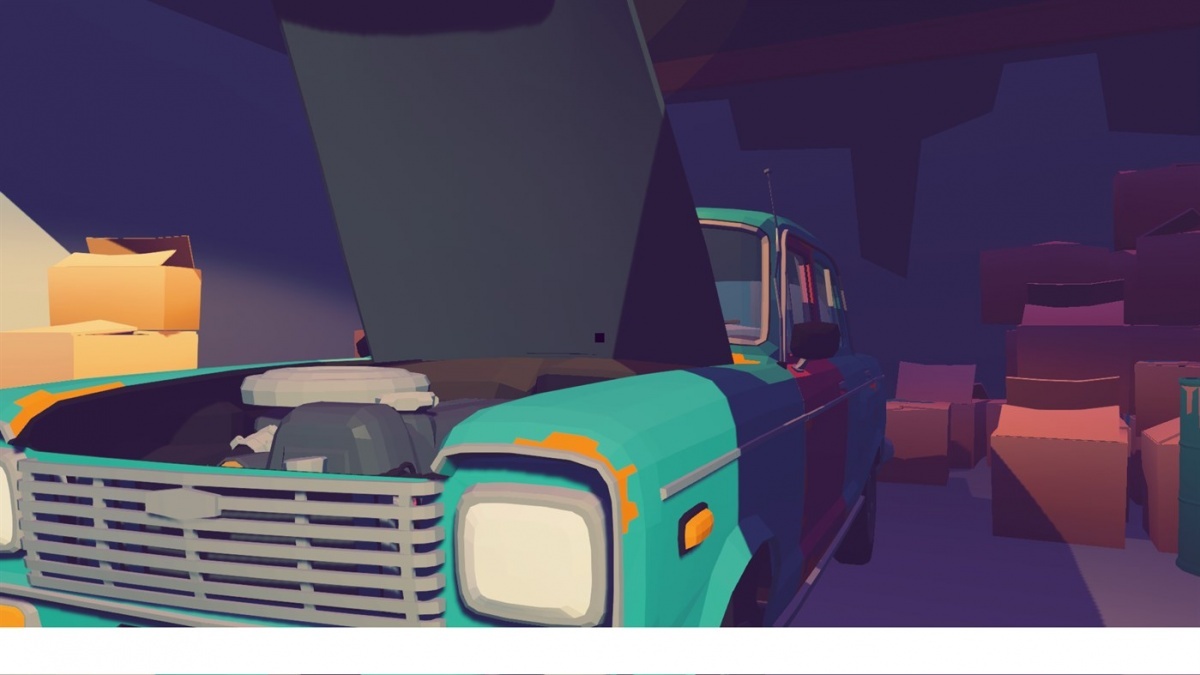 Road to Guangdong on paper is an interesting and amusing idea. The reason why it is not enjoyable is the unimaginative and barebones gameplay, which is compounded with woefully low attention to detail. The art direction can be given a pass since it is inoffensive and minimalistic; resembling an off-brand Katamari Damacy. However, this does not excuse the embarrassing overuse of the same repeating assets. One would expect more variety in the design and layouts of the roads and highways since the art style is so simple, but Road to Guangdong is barren of features while driving.
Every gas station, junkyard, and even the same city block get reused every time and there is no sense of immersion. There is no need for navigating streets or roads either, since there is only one way to go, and trying to go the opposite direction will reveal a blocked off path that wasn't there before. This could have been a great gameplay element; having to navigate through streets and paths by stopping to look at a map or ask Auntie Guu-Ma for feedback on the route. There are multiple stops to make before the family restaurant can be saved, and aside from choosing to how and when to care for the worst car of all time, this is all of the agency afforded to the player.
There is no thought put into how to manage resources, since there are always scrapyards that have tires, fan-belts or oil filters and the strategy is not any deeper than merely taking everything until inventory maxes out, and then using the best parts and selling everything else for gas and oil money. There was opportunity to create some roads that could wear down tires faster, or have some routes be blocked off from some natural causes or accident. Instead of making a compelling emergent sim, the developers chose to remake Desert Bus, featuring a nagging Guu-Ma. At least Desert Bus was a satire on realism in '90s video games, this is just a pretentious essay on the author's life experience.
When not tediously driving down a straight road of repeating assets, Road to Guangdong has moments where users will interact with the protagonist's family. These moments are meant to be a slice of life experience where gamers are sifting through lots of "authentic" Cantonese dialogue and idioms. Often the family member is question needs a little help with some ordeal, and it is up to the protagonist and Guu-Ma to help them out. At the end of the episode, the relative will give up a special recipe to the heroes which will hopefully save the restaurant.
The premise is sound, but the problem with the execution is the boring protagonist, who the writer fails to set up properly. It is hard to care about anything that anyone has to say, and all the information given has to be accepted at face-value. It is a horrible mixture of unnecessary exposition, and not enough important information, which is also expressed clumsily via "as you know..." This is not recommended to anyone interested in a deep narrative or complex driving sim; it won't please anyone, and visiting a creepy uncle is more enjoyable.