By Nayu

31.01.2021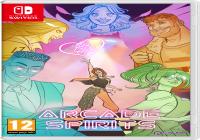 Despite being on the decline in some countries for decades, video game arcades are thought of fondly by many gamers. Luckily, prior knowledge about them is not necessary to enjoy the visual novel from PQube, Arcade Spirits. This reviewer knew nothing about arcade machines themselves, but that didn't matter, because through the course of this romantic comedy both the history of arcade machines and the technology behind them is explained in a pretty engaging way.
Starting a job in an arcade with a fairly sentient AI for help is the beginning of a new passion for the customisable protagonist. All staff members of the arcade and prominent visitors are definitely people with strong individual traits that are both a blessing and a curse for the job. They have a good knowledge, but can sometimes be stubborn on elements that need change. What brings them together is their passion for arcade systems, regardless of the genre.
Shoved into the world of Funplex, the protagonist helps run the arcade, make it flourish against stiff competition; competition that has an enviable amount of wealth and resources that are used to discredit Funplex. Daily life includes keeping an eye on the customers on the main level, helping those with problems, identifying when machines are broken, and many other scenarios.

This is cleverly themed like a video game with various levels used as chapters. At the end of each a summary looks at how well the protagonist got on with their job and colleagues that affects future interactions. There are a couple of personality traits which are used when the player makes a choice on how to act in a scenario that impacts the level summary. It was fun to try and choose the trait that was most appealing, as the attitudes of the traits about the same situation differed greatly in some cases. There was never a choice that felt game-breaking in what happened next in the visual novel - some did change outcomes, but it is easy enough to return to a save file if not happy with an event's outcome.
Forging friendships impacts on what choices are available later on. Each character has a different gaming background, which adds to the overall knowledge about arcades. There is a lot to be learned from playing this, and even if some of the jargon and explanations seem too complex to understand, it is easy to appreciate why different types of arcade systems are revered, why having a variety of games is important, how hard it can be to find parts for older machines that are no longer manufactured.
Sometimes machines that don't work are bought simply for the display screen, or a part of it which can work in a fully functioning machine. People don't merely play games in an arcade, they form relationships like the protagonist does, get to be with similar minded people, and take part in events which help publicise the arcade as well as bring in some much needed extra money.

Cubed3 Rating
8/10

The distinct graphic style and story based on friendships and gaming, adds to the fun factor of Arcade Spirits. It is suitable for any player regardless of the level of arcade system knowledge, as a lot gets explained. It isn't solely an arcade history lesson, though. There is a slightly supernatural element that creates a lot of mystery and thrills, making a sequel rather desirable. The solid plot combined with retro style colours and game appropriate menus all add to the arcade machine feel of this visual novel, which most will appreciate and enjoy.
Developer
Fiction Factory Games
Publisher
C3 Score

8/10
Reader Score

0 (0 Votes)
Out now

Out now

Out now

Out now